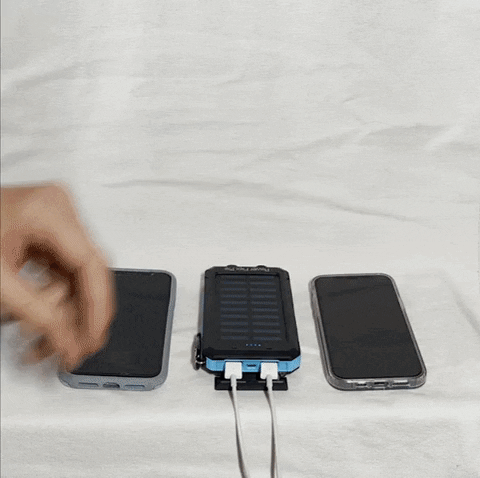 Solar Powered Phone Charger
Life happens fast… don't let a dead phone slow you down.
It's crucial to make sure your devices are fully charged - so easy with Power Flex Pro's solar powered charging system. The ability to charge any device anywhere has taken on a new form with Power Flex Pro due to its solar powered capabilities. Simply place the device in the sunlight and you never have to worry about your portable charger needing a charge again.

With intelligent charging capabilities, your devices are able to come back to life faster than ever before, all in a safe a reliable way. It is truly the new and improved on-the-go way to make sure you never miss a beat. Power Flex Pro solar phone charger is the perfect size to fit in your pocket, bag or even to be clipped onto your backpack. It's super portable and ergonomically designed for maximum efficiency.

We know longevity is also top of mind - Power Flex Pro solar power bank holds a battery life of 10+ hours for maximum charging capabilities. Our portable charger device is quick and easy to use. With a design predicated on simplicity, we have made charging your device a breeze, all while adding additional key features.
Because the Power Flex Pro is shock proof, dust proof and water proof…you'll never have to worry about its safety. Ever.
The devices durability paired with its' sleek and elegant design, allows it to be the absolute perfect tool for anyone anywhere, no matter who you are or what you do. It's features are unmatched and are vital for day-to-day life.
The Swiss Army Knife of Portable Chargers:

Water Proof: smartphones are water resistant so why isn't your portable charger? Never worry about your devices getting wet again!
Dual-LED Flashlight: LED flashlights allow for the perfect night time guide whenever you need it most. This is a tool that simply always comes in handy
Bag Clip: just clip Power Flex Pro to your backpack to allow it to charge wherever you go! It's the ideal hiking solar phone charger. Perfect for hiking, biking, camping or any other adventure 
Rugged Tough Design: designed with heavy-duty rubber trim - our device is able to withstand even the toughest bangs and bruises from your on-the-go lifestyle. It's the best solar phone charger for camping.
Built In Compass: navigate your path without having to constantly check your phone. Designed to be quick and easy for outdoor enthusiasts everywhere
POWER FLEX PRO IS A GAME CHANGER 😎
Power Flex Pro is the best new electronic accessory. Offering premium quality and an even better experience. You don't want to be the only one missing out - we can promise you that! 
SPECIFICATIONS
Max Power: 2.1A
Weight: 203 g
Dimensions: 17 x 78 x 160 mm
Output Voltage: DC 5 V
Output current: 5.0 V / 1000 mAh ~ 2000 mAh
Input Voltage / Current: 5.0 V / 1000 mAh
Battery Capacity: 3.7 V / 20000 mAh
 NOTE: The color of the unit may vary depending on the time of year